Events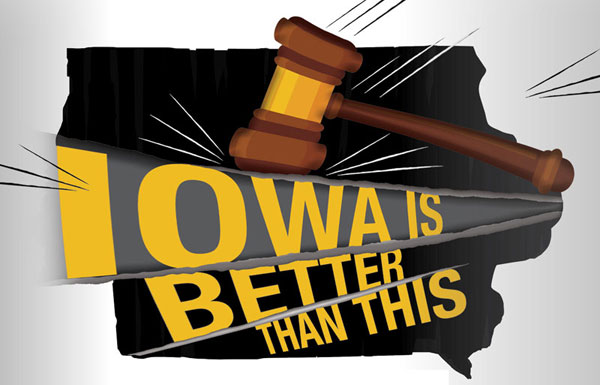 Iowa Is Better Than This has become Coalition for a More Just Iowa!
Progressive Nonprofits from around the state are invited to join. We are stronger together!
BETTER THAN THIS! Words and Music by Lojo Russo © Jan 31, 2022

Enough is enough. Let your voice be heard on:
~LGBTQ+ issues
~Voting rights
~Gun accessibility
~Housing discrimination
~Educational curriculum
~The right to peaceful protest
~Treatment of immigrants
---
POWERFUL LOVE Campaign Kickoff

Our country and our community, has a White Male Fear Problem. Not all, but too many, white males think this country belongs to them: it doesn't. They think men are superior to women: they aren't. They think the problems in our communities are due to minorities: the problems in our communities are due to systemic racism and oppression of the poor (which includes, ironically, poor white males). They think – no, the problem really is that they don't think: they merely judge from a position in our society of entitlement and privilege and have knee-jerk reactions in response. What these white males fear most is that minorities with too much power will treat them the way that minorities have historically been treated by white male run socieity.

Please reject this white male driven culture of fear. One Human Family QCA is again launching it's Powerful Love campaign. Billboards, T-shirts and yard signs allow you to proclaim that you believe in love enough to stand up against racism. That your love respects the right of all religions to practice freely. That your love understands and respects that people love differently than you. I invite you to check out these messages at www.onehumanfamilyqca.org.